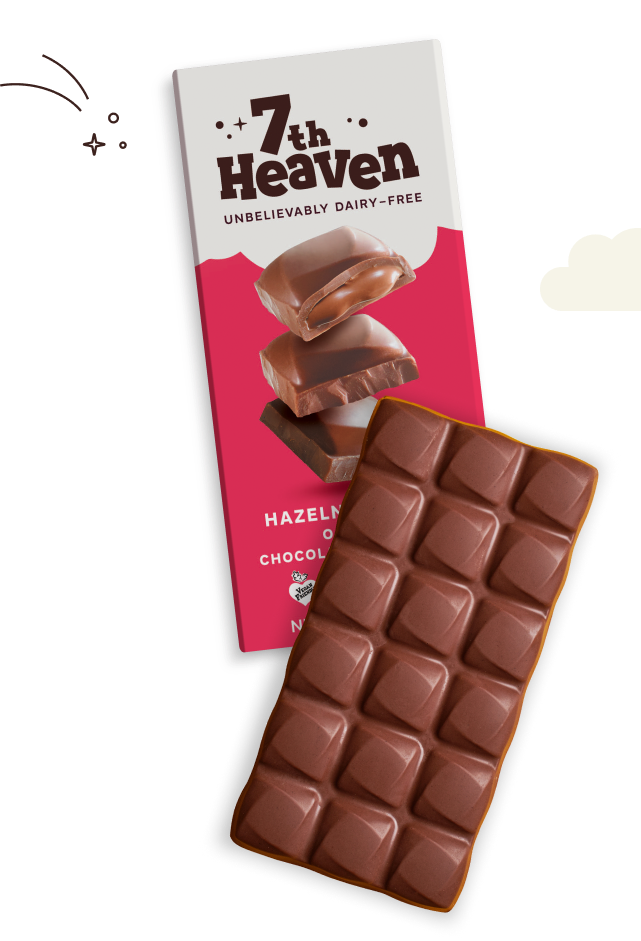 Transforming
Dairy-Free Chocolate
As vegans, we missed milk chocolate so much that we made it our mission to recreate it with sustainable, plant-based, Fair Trade ingredients. Years of research and many taste tests later, 7th Heaven Chocolate has the taste, texture, and creaminess of milk chocolate – but is completely dairy-free!
With its Kosher Pareve Certification (supervised by Badatz Belz and the Chief Rabbinate of Israel), it's a treat you can feel good about enjoying!
4 Ingredient Chocolate Mousse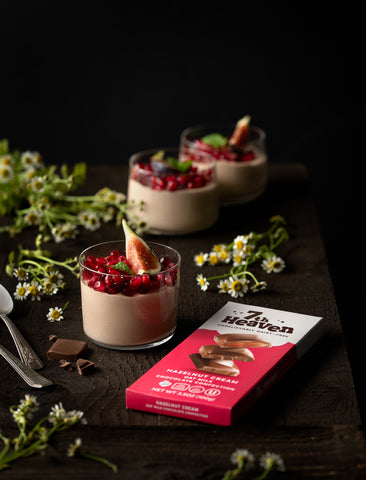 Have a Sweet New Year with 7th Heaven Dairy-Free Chocolate
Check out the recipe from Adina Schlass , @the_chefs_wife.
Ingredients
8 oz 7th Heaven hazelnut or classic chocolate 
8 oz heavy whipping cream, for melting chocolate chips
1 cup chilled heavy whipping cream, for whipping
1/2 teaspoon pure vanilla extract
Pomegranate seeds and sliced figs for garnish 
Instructions
In a large bowl, heat the chocolate and 1 cup of cream until the chocolate is melted and the mixture is smooth. Set aside to cool to room temperature, stirring occasionally 
In the bowl of a hand mixer or stand mixer fitted with the whisk attachment, beat 1 cup chilled cream with vanilla until stiff peaks form. Transfer the whipped cream to the refrigerator until the chocolate has cooled to room temperature. 
Using a rubber/silicone spatula, fold the whipped cream into the melted chocolate. Don't mix or stir this, gentle folding technique is what keeps this nice and fluffy. Keep folding until fully combined. Once fully combined, transfer the mousse into individual serving dishes and chill for at least 2 hours, or over night.  The colder it is, the more firm it will be.
Before serving, place pomegranate seeds and sliced fresh figs on top of the mousse, garnish with mint leaves
Bundles for Your Rosh Hashana
Alejandro Vargas
My vegan girlfriend's favorite!
I'm presonally not vegan but these are delicious.
Jack H.
The best vegan milk chocolate ever. Hands down.
Brett J.
This chocolate is divine, The mouth feel is just like milk chocolate but without the milk! Love it!
Coco H.
e best vegan milk chocolate ever. Hands down.